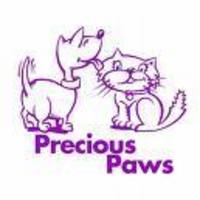 Pet lovers will be seeing stars November 5 – 15 at the Celebrity Experience and Entertainment Memorabilia Auction, launched online to support Precious Paws, a non-profit animal rescue organization based in Encino, Calif. The ten-day auction will be held exclusively on the Precious Paws eBay store, and features star-powered items for fans and Hollywood followers of all ages.
Among featured auction items is an opportunity to meet and lunch with Mark Hamill of "Star Wars" fame. The actor, director, writer and producer is best known for his portrayal of Luke Skywalker.
"My wife and I are delighted to support Precious Paws and its ongoing quest to save animals and provide good, loving homes for them," said Mark Hamill. "The organization is committed to its cause, and this fundraiser is critical in helping the group meet its mission."
Items for bidding also include: a signed copy of the "Hungry Girl" book and tour of the "Hungry Girl" office with creator Lisa Lillien and her staff; autographed guitars from Bon Jovi's Richie Sambora and The Eagles; a visit to the set of Nickelodeon's "iCarly;" a Gospel Brunch for two at House of Blues on Sunset Strip; and autographed items from Paris Hilton, Jimmy Buffet and BB King. Autographed "Star Trek" memorabilia for auction include those from Patrick Stewart, Scott Bakula, Kate Mulgrew and Avery Brooks. In addition, celebrity lunches with stars include Susan Olsen from "The Brady Bunch," Adrianne Curry & Christopher Knight from VH1's "The Surreal Life" and "My Fair Brady," director Eric Roberts of the Starz series "Crash," Stephen Collins, Bobby Sherman, Robbie Rist, Anthony Michael Hall, Nicole De Boer, Alana Curry and McKenzie Westmore.
"It warms my heart to see celebrities offer their time and energy to support our cause," said Susan Olsen, known for her role as Cindy on "The Brady Bunch". "I can see what the support and donations do for the animals first hand. In addition to being the director of media and special events for Precious Paws, I am also a foster mother. I care for many of the baby animals that come into our fold while we help them find good people to adopt."
For additional information about the Celebrity Experience and Entertainment Memorabilia Auction, please contact Georgyne LaLone, president and founder of Precious Paws, at (818) 773-3336 or preciouspaws@preciouspaws.org.

About Precious Paws
Since 2003, Precious Paws has been rescuing unwanted companion cats and dogs in Southern California from both the streets and local shelters. A 501(c) 3 registered nonprofit organization, Precious Paws is dedicated to spaying or neutering, vaccinating, and testing each animal rescued before they are placed for adoption into permanent homes. For more information, please visit www.preciouspaws.org.
Auction Catalog
A LUNCH FOR TWO WITH:
* Stephen Collins
* Adrianne Curry and Christopher Knight
* Alana Curry
* Nicole De Boer
* Anthony Michael Hall
* Mark Hamill
* Susan Olsen and Robbie Rist
* Eric Roberts (Eric Roberts for Precious Paws)
* Bobby Sherman
* McKenzie Westmore
OTHER:
* A visit to the set of iCarly
* A signed Hungry Girl book, tour of the Hungry Girl office, and meet & greet with Lisa Lillien (www.hungry-girl.com) and her staff
* Autographed electric guitar by Richie Sambora of Bon Jovi
* Picture and "Lost Highway" CD autographed by Richie Sambora
* Autographed acoustic guitar by The Eagles
* Autographed Collector's Beer Can by Joe Elliott of Def Leppard ('92 cover of the Rolling Stone is on the can)
* A variety of items from Paris Hilton's products line
* Autographed Poster by BB King & Robert Cray
* Autographed Poster by John Denver
* Autographed Poster by Billy Idol
* Autographed t-shirt by Jimmy Buffett
* Autographed script by the cast of "Nurse Jackie" (including Peter Facinelli of "Twilight" fame)
* Rare "Revenge of the Jedi" Poster
* Autographed hockey pucks and photos from players of the L.A. Kings
* A cat lithograph from Christine Head (www.mysketches.com)
* An autographed lithograph from Olivia (www.eolivia.com)
* A Gospel Brunch for 4 at the House Of Blues, Sunset Strip
* "Wolverine and the X-Men DVD – Volume 1 – Heroes Return" containing the three-part pilot, signed by Greg Johnson (Head Writer), and Craig Kyle (Supervising Producer); both provide a Commentary Track for the episodes in the Special Features.
* "Wolverine and the X-Men DVD – Volume 2 – Deadly Enemies" containing five episodes, signed by Greg Johnson (Head Writer), Craig Kyle (Supervising Producer), and Chris Yost (writer); all three provide a Commentary Track for the episodes in the Special Features.
* A variety of autographed photos with Star Trek actors and actresses, including Scott Bakula, Patrick Stewart, Kate Mulgrew and Avery Brooks
* 2 Parkhopper tickets to Disneyland Resort
* 2 Passes to Universal Studios
* 2 Certificates for up to 4 Guests to the Magic Castle